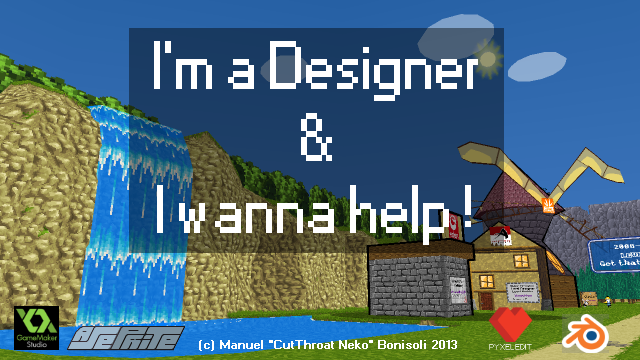 I'm a designer and I wanna help!
A downloadable I'm a Designer for Windows
It's a walk through a professional route. My professional route.Exciting, isn't it ! No ? .... Well, I can't blame you, actually, because ...
It's basically my resume, but as what we call a "walking simulator". There's no gameplay other than, well, walking and it can be "completed" in less than two minutes.

I made that 4 years ago, when I was looking for a job, and I didn't update it since (code and content):
Yes, I found a job (but ... )
No, it was not thanks to it (but a lot of people liked it a lot on the steam workshop) so I think you can say it was a failure.
It's made with Game Maker Studio (or 8.0, can't remember) in glorious 3D. I'm not a skilled programer nor a talented artist, but everything (excepted some obvious assets, you will see) have been made by myself : 2D art, texture, 3D mesh, animation, music, code.
Keep in mind that because it was created for video game companies and not for the regular "hardcore casual gamer", it's not a very "interesting" game.
---
Known Issue
Windows only, Sorry :(
DO NOT Alt+Tab the game, the view will become CRAZY and you will lose an eye (worst than VR, trust me)

I'm sure you will try, anyway.
Install instructions
Remember : DO NOT Alt+Tab the game. Scary. Really. Like *plop*.
Unzip the archive on your hard drive.
Double-click the .exe
Alt+Tab, remember ?